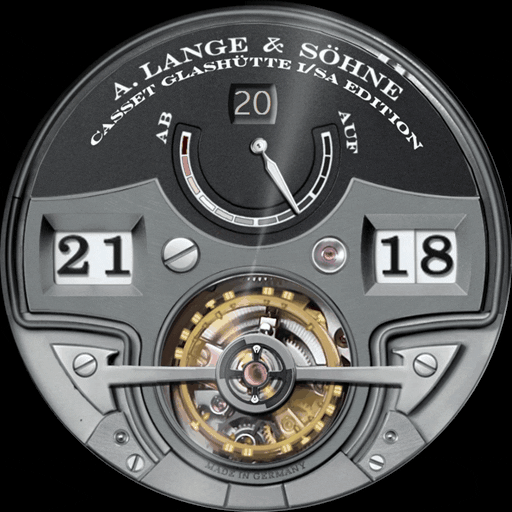 A. Lange & Söhne tiene la particularidad de fabricar ediciones exclusivas que sólo se pueden adquirir en sus establecimientos. 
Sus piezas se sitúan sobre los 400/500.000 euros y se fabrican muy pocas unidades.
En esta creación se unen el negro y el acero, incorporándose indicador de fecha vista y un tourbillon que le otorgan un carácter especial a la máquina.
Como siempre, doble toque en posiciones cardinales de la esfera para acceso a:
-Alarma
-Calendario
-Cuenta atrás
-Cronómetro
A. Lange & Söhne has the peculiarity of manufacturing exclusive editions that can only be purchased at its stores.
Its pieces are situated on the 400 / 500,000 euros and very few units are manufactured.
In this creation, black and steel are combined, incorporating a sight date indicator and a tourbillon that give the machine a special character.
As always, double tap on the cardinal positions of the dial to access:
-Alarm
-Calendar
-Countdown
-Chronometer




Download:

You must log in to download this watchface. Please log in or register as a user.
How to use this file:
Download Gear Watch Designer from Samsung Developers directly by clicking on the image below these steps.
Read the Gear Watch Designer help section to know more about how to use the files and it's benefits.