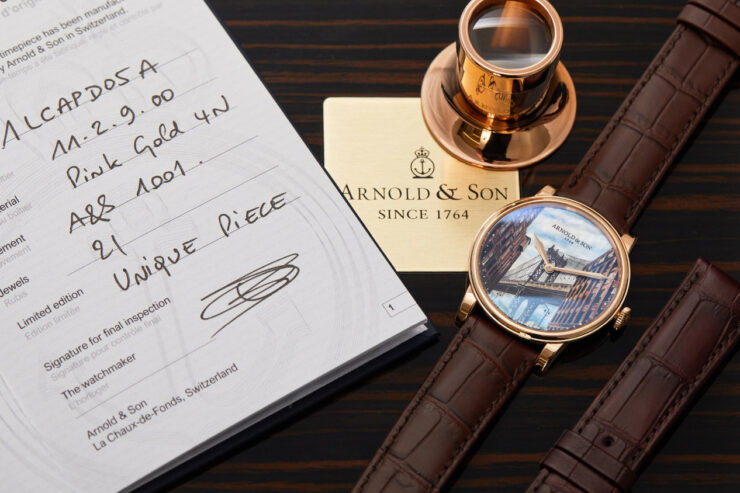 This may not look like much, but is with out doubt, the most time consuming face I have ever done. It is a cut and paste, however most of the rebuild, there was nothing to cut or paste. So basically I had to redraw the painted image in Gimp. I'm certainly no artist, so was very time consuming and I did the best I could do!
The reason I wanted to do it is, this watch is a 1 only and i just love the dimmed night image.. A brand new, and unique 18-karat pink gold wristwatch with miniature hand painted, luminous mother-of-pearl day and night "Manhattan Bridge" dial made for the Horological Society of New York. It was auctioned last year and raised $30,240 for Charity.
So I haven't messed with it at all. No date, no second hand and not a true dim, just a night view of Manhattan Bridge.
Not drawn entirely from scratch in GIMP but kind of painted and assembled and coded in WatchMaker.
Tap Features:
Double Tap 6 to Unlock Tap Functions / Single Tap to Lock tap to Lock.
Center to Zoom.
3 to adjust Brightness.
9 to toggle Dim – Auto / On / Off
Hopefully someone somewhere may enjoy 😁
You must log in to download this watchface. Please log in or register as a user.




How to use this file:

Download WatchMaker App from Google Play Store directly by clicking on the image below these steps.
Install the Watchmaker Companion App available on Samsung Gear Store.
Read the WatchMaker help section to know more about how to use the app and it's benefits over the Samsung GWD watch faces.