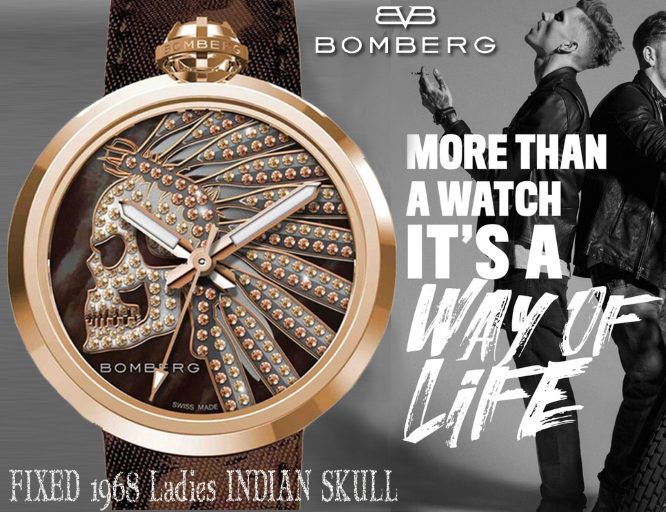 BOMBERG is ecstatic to announce their newest timepiece-collection – FIXED 1968 for Men & Women. This collection is everything BOMBERG embodies – a statement of empowerment, very bold & daring.
BOMBERG first opened doors in 2012 and since then stands out in the watchmaking & jewelry industry. Thanks to their innovative, bold designs, they have revolutionized the current market and by breaking the rules they bring freshness and innovation to the industry.
In line with this philosophy, the FIXED 1968 LADIES & MEN is another BOMBERG statement in itself. "Fixed" is the very first collection in the brand's history, which does not have the ability to become a pocket or table watch. Hence, this 1968 collection represents a more traditional piece and introduces a new watchmaking mindset to BOMBERG. For the very first time, the Swiss watch and jewelry House also launches a collection for women – a first and big step in order to satisfy the demand of the market and widen its consumer target.
For the very daring and fashionable ones is the FIXED 1968 Ladies "INDIAN SKULL"– a watch so bold, modern and courageous – a true statement piece. It comes in three colours, two shades of brown and one in blue jeans fabric. The dial is also made out of mother of pearl in either the corresponding colour shade for the brown and blue time-piece – or a natural mother of pearl for the golden beige version. Various Swarovski© Stones on the dial are formed into an INDIAN SKULL – a woman's bold statement to the world.
The year 1968 has been an important year for all women in Europe – a second-wave of feminism emerged. In various European countries, women and men walked the streets to raise awareness and fight for rights – emancipation, leadership and freedom. All values, which BOMBERG as brand itself also expresses – and in addition to the empowerment of women, celebrates also total equality. This is why this collection is not only inspired by the 68 movement but also designed for women and men alike.
You must log in to download this watchface. Please log in or register as a user.




How to use this file:

Download WatchMaker App from Google Play Store directly by clicking on the image below these steps.
Install the Watchmaker Companion App available on Samsung Gear Store.
Read the WatchMaker help section to know more about how to use the app and it's benefits over the Samsung GWD watch faces.