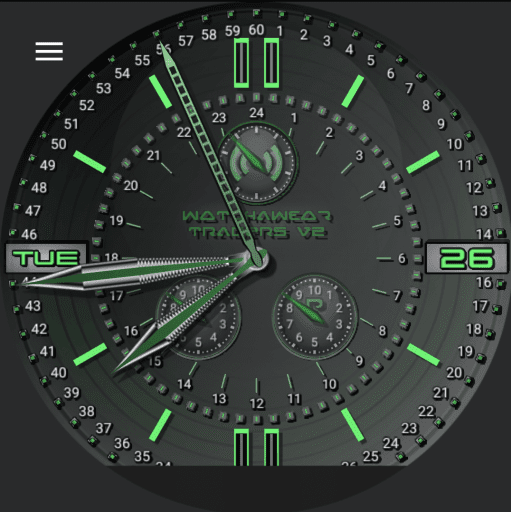 Traders V3+ is a 3 screen watchface for WatchMaker. The Clock Screen has color change by tapping the center. Features 2 battery level guages, left is the watch and right is phone. Guage color changes from green to yellow to red with battery charge level. Top Gauge is Wi-Fi Strength. Wi-Fi changes colors, has Gauge hand and icon to show wi-fi strength. Touching at the edges at 9, 3 and 12 o'clock accesses the Weather Screen, Health Screen and "Home" or Watch Screen. When viewing the Weather Screen, it can be updated by touching the current weather conditions, temperature or current weather icon. 4-day extended forecast. Health Screen has an Dual – Analog/Digital Stopwatch plus access to your steps and heart rate. All tap actions have vibrations added. Dimmed mode is only green glow.
    
You must log in to download this watchface. Please log in or register as a user.




How to use this file:

Download WatchMaker App from Google Play Store directly by clicking on the image below these steps.
Install the Watchmaker Companion App available on Samsung Gear Store.
Read the WatchMaker help section to know more about how to use the app and it's benefits over the Samsung GWD watch faces.