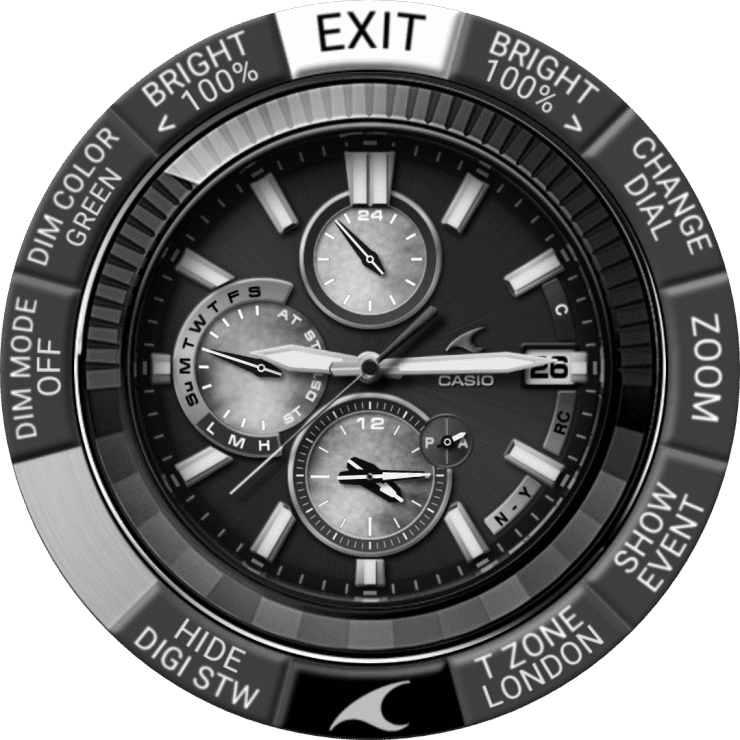 For the issues on loading on Gear S3, I made two watch files.
For both I reduced number of layer from 127 to 77.
One has image layers at maximum 512×512 pixels, and the other has dials at 980×980 pixels.
Features:
Tap top of dial to enter menu settings

Left subdial – day of week

Upper subdial 24h for your location

Lower subdial – time zones (3 presets in watchmaker) , and analog stopwatch (minute and hour) , smallest subdial 24h for time zone selected

Digital stopwatch – you can hide, visible only when STW is running

Event reminder

Watch agenda acces

Second hand, watch battery level when dimmed and second stopwatch in STW mode

3 dim modes: off (default), on  and always on

3 dim colors + ucolor

6 brightness levels

Dial change

Time zone select

Zoom
Events notification:
EVENT word will apear above "Y" and will be white if there is upcoming event. EVENT will flash 59 minutes before the event starts and stops at the end of the event. However, event notifications depend on your watchmaker settings. If you have set to show you notifications for one day events, such as holidays or birthdays, EVENT will flash all day.
You must log in to download this watchface. Please log in or register as a user.




How to use this file:

Download WatchMaker App from Google Play Store directly by clicking on the image below these steps.
Install the Watchmaker Companion App available on Samsung Gear Store.
Read the WatchMaker help section to know more about how to use the app and it's benefits over the Samsung GWD watch faces.